Clinic director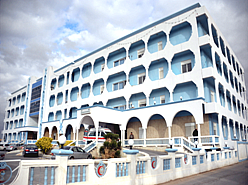 In the name of Allah, the beneficent, the merciful
 Team of farsighted and efficient Libyan doctors, have decided to encourage the private health sector to group within one building various medical specialties, facilities and the latest medical equipment to provide the best health care services.
 In November 1994, Al-Afia clinic was opened to provide the most efficient medical care to the Libyan people,
 Management and medical expertise were sourced from national and international medical organization. This enable us to provide our patients with optimum quality and skill surgical procedures, medical care managements, as well as pre and post operative nursing.
 God has blessed us to be the most well known and highly recommended clinic in Libya to provide the medical services to the highest healthcare standards but also continuous and on-going update in all fields. And keep at forefront of medical care, by providing a comprehensive, efficient and affordable range of healthcare services
 Your satisfaction is our highest reward.
 Clinic director